Aspect Ventures, a female-founded VC firm, has appointed Kendra Ragatz as COO and general partner. Ragatz is stepping into a two-fold role: In addition to making investments, she's in charge of growth and development for the firm itself.
(Read post on PitchBook)
Theresia Guow and Jennifer Fonstad founded Aspect in 2014 and closed its debut vehicle on $150 million the next year. The firm, which is currently raising a second fund with a $175 million target, is focused on early-stage investments in several industries, including security, digital health, AI and autonomous vehicle software. It writes seed and Series A checks.
As of now, Aspect has backed more than 30 startups, including travel booking platform HotelTonight and Chime, the provider of a savings app.
A unique role: venture capital COO
The COO position is relatively unique among investment firms. Because of the nature of the business, private equity and venture capital investors tend to devote their time, energy and finances to helping other companies grow.
"Today, more and more VC firms are focusing on running their own businesses to the same degree they focus on helping their portfolio companies," said Ragatz (pictured) in an interview with PitchBook.
In her new role, Ragatz will do just that: She'll help develop Aspect Ventures by focusing on recruiting, finance and operations, in addition to mentoring the firm's investors. Before joining the Bay Area-based VC firm as an operating partner at the end of 2016, Ragatz held more traditional roles at investment firms including DAG Ventures and Steamboat Ventures, Disney's venture capital arm.
In addition to her COO duties, Ragatz will have a more traditional partner role. She'll seek out new investment opportunities for Aspect, some of which will likely be in the health and wellness sector.
Women in VC: 'Diversity generates better outcomes'
A VC firm founded and run by two women is something of a rarity in Silicon Valley. Ragatz said the firm's co-founders, Guow and Fonstad, are some of the only female investment professionals she's ever worked with. While the firm doesn't necessarily make a point of investing in female-founded startups, its portfolio does include a fair number of them.
The percentage of global VC deals for companies with at least one female founder sits at about 17%, per PitchBook data. Here's a closer look at VC investment in female-founded companies over the last decade, as of March 2017: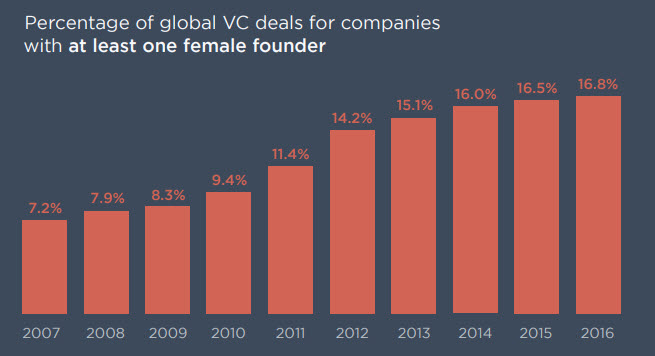 *The chart above is from a datagraphic PitchBook produced in March. 
Ragatz said Aspect's portfolio tends to be more diverse than average.
"It's not our strategy to invest solely in female founders, but I do think Aspect being founded by two female general partners and having further diversity amongst our investing team creates a strategic advantage for our firm in attracting top-notch entrepreneurs," she told PitchBook. "At the end of the day, and there is a lot of data to support this, we do believe that diversity generates better outcomes."
Aspect backs TheRealReal, the online consignment company founded by Julie Wainwright that reached a $450 million valuation in June. Other notable female-founded startups in the firm's portfolio include subscription beauty company Birchbox and career guidance platform The Muse.
Firms like Aspect are at the forefront of building diversity in the tech community. "I'm hopeful that as the industry attracts and promotes more female VCs, and there are more female entrepreneurs starting businesses, it will create a cycle of opportunity for even more women to enter into tech and succeed."